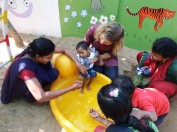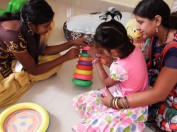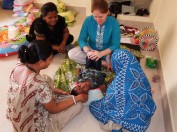 Special children - Special families!
We meet a number of very special children with very complex needs and often they have no place to go for help.
Love the One is all about working with families and their communities to improve children's lives.
Children can be born with a disability because of a variety of reasons such as genetic diseases, infectious causes or a lack of oxygen due to a difficult labour and delivery. In rural and marginalised areas, the incidence of disability is significantly higher due to less than adequate medical care in the antenatal, perinatal and postnatal period.
We meet many families who feel desperate, not knowing what is wrong with their child, and what the future holds for them.
In addition to this, there are some communities who do not welcome children with disability and so the family are stigmatised, and put under to pressure to neglect their child.
We passionately believe at Love the One that every child has value and that every child has rights, which has led to us opening our first Children's Centre for children with special needs in March 2015.
The Children's Centre is a safe space for families to come with their children. We have a child centered, multidisciplinary approach as our team work alongside the family, to help them help their children through practical provision, child centred care and family support.
There is a paediatric clinic on-site to allow the children's medical needs to be met, medications to be adjusted and most importantly a place for the parents to be told a diagnosis and have time to ask questions and express the fears they may have.
In 2019 we now have 12 children with both physical and mental disability who come daily to our centre for therapy and loads of fun!
Therapy Weeks
We run special therapy weeks, where parents often come from hundreds of kilometres away and have a chance to have some rest and respite with us as we help care for them and their children.
The parents are able to learn simple physiotherapy skills so that they continue their child's therapy in their remote setting. We have visiting OTs (Occupational therapists) who assist in providing suitable aids such as wheelchairs and special seating and spend time with the family as they learn how best to care for their child and help the to reach their full potential.
A great part of our therapy week is the bonding between other parents together. Often a family has not seen another child with a disability and so feel alone in their situation. During the therapy week the parents have time to sit and chat over many cups of chai, sharing successes, discussing problems they face and supporting and encouraging one another.
Overall we want the children and the families to have a lot of fun!
We have a wonderful large play room plus a sensory room where the children love to explore, learn and enjoy all that is on offer. Mums and dads get a chance to put down the burdens they are carrying and simply enjoy being with their children. We also teach and equip the parents and grandparents (!) basic skills for simple physiotherapy exercises so that their child can continue to preventure contractures and stiffness despite living in a rural village miles away from any health care provider.
These children are special and deserve the very best we can provide for them, and they are such a joy!