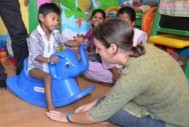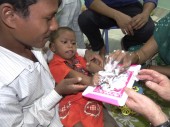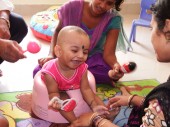 Special Educational Needs
"Every child has the right to special education and care if they have a disability, so that they can live a full life."
[Article 23, UN Convention on the Rights of a Child]
There are many children in India, often living in difficult circumstances, who have special educational needs. At Love the One we want to provide, not just for their medical needs, but to help each child reach their full potential through bespoke learning and community based rehabilitation (CBR).
In March 2015 we opened our first Children's Centre!
This is a great place for these children to come and have fun, learn and receive extra therapy that they need to reach their full potential. The team work alongside the family to help them help their children through practical provision, child centred care and family support. It is wonderful to watch these special children, previously with little stimulation or support available, start to smile, enjoy life and learn new skills. Parents learn new techniques to communicate with their children and skills to help their child learn and have fun back at home in their community setting.
For more local children, the centre is open on a daily basis to come for sessions of play and learning, and where appropriate we encourage some of these children to be integrated into our mainstream EPIC centres.