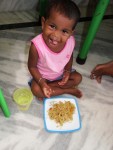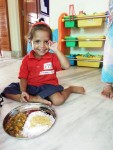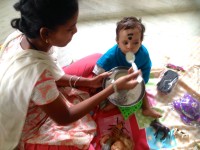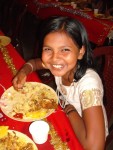 Food for Life!
"Malnutrition is more common in India than in Sub-Saharan Africa. One in every three malnourished children in the world lives in India." [UNICEF report on Nutrition]
Malnutrition in early childhood has serious, long-term consequences because it impedes motor, sensory, cognitive, social and emotional development. Malnourished children are less likely to perform well in school and more likely to grow into malnourished adults, at greater risk of disease and early death.
46% of India's children are malnourished. At Love the One, we are passionate about seeing this situation change for many of India's children.
Every child attending either an EPIC Centre or Love the One School receives a nutritious midday meal and morning & afternoon snacks, 5 days a week. The children at the centres also receive regular deworming medicine and nutritional supplements in addition to their food if a child is more severely malnourished.
We closely monitor each child's weight and height, and love watching them start to grow so well after a few months in our centres, their improved nutrition drastically reduces their number of illnesses they pick up, and speeds up their recovery when they are sick.
If you would like to support a nutrition program in an EPIC centre on a regular basis, or would like to sponsor a child to attend an EPIC centre, do click here to set up your giving. Food saves lives!