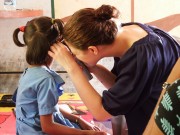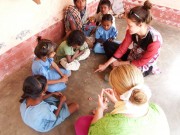 School Health - Seeing them thrive!
Love the One likes to go where lots of children gather... and where better than to see them at their school!
Partnering with schools that cater for kids that are poor or marginalised, or visiting children living in institutions means that our clinic teams get to see the neediest kids and give them a thorough check up in their familiar surroundings. This initiative also encourages more of the community to send their children to their local school, so that they can access the free health care too!
Our annual school health check ups are thorough!
Each child is seen with their parent/carer where possible and we make sure they are physically healthy, as well as looking at their overall development, behaviour and emotional health. Many child protection issues arise at this time which allows our team to confidentially start the process of assessment to ensure the safety of each child we see.
For many, this is the first time that they have seen a doctor and so many serious undiagnosed problems are picked up such as children with club foot, serious heart conditions or significant disability.
Sometimes its the simplest of things that makes a difference...
The majority of children we see cannot access or fund simple things we can take for granted. A pair of glasses for a child with impaired sight can literally transform their ability to learn and stop from them failing at school.
"To see the joy on a child's face, who has been struggling for years with significant hearing impairment, when we switch on their new hearing aids for the first time is memorable for us all!"

Love the One Doctor
Some children have more complex problems that need more help from specialised hospital care. The team walk alongside each child and their families to get the treatment they each deserve.
Often we meet the children for the first time in our school clinics... but the great part is that this then leads onto so much more! We run positive lifeskills courses, youth clubs and children's camps for all the children we meet and our team start to really befriend and stand with them as they grow up into young adults.
We also have pioneered our own schooling initiatives for children who are needing more... do have a read about our Love the One School!