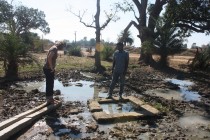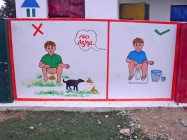 Preventing illness
Many children's lives can be saved through good hygienic habits to prevent ill health and we love to prevent rather than cure if at all possible!
Recent statistics showed that 386,000 children died from diarrhoea related illnesses in India in one year. These are child deaths which would be largely preventable with simple hand washing with soap.
Open defaecation remains a common practice in rural India. In the state of Odisha where much of our work is based, 78% of families do not have a toilet. Without toilets, not only does illness spread amongst a community, but is also dangerous. Sadly, many young girls are targeted and raped when they go out to the fields at night time.
Love the One have a range of programs to tackle these issues, which include:
'Health and Hygiene' interactive sessions to children in schools and communities.

Working alongside teachers and carers of children to improve hygienic conditions in their environments.

Organising community litter picks to help clean up the extensive rubbish around where they live.

Community teaching on topics such as malaria and the importance of using mosquito bed nets, especially for the babies and children.

Liaising with communities to find solutions together to improve sanitation and hygiene, and inviting specialised partner charities into our target villages to roll out a comprehensive sanitation program.
If you are a specialist in Water, Sanitation and Hygiene (WASH), love to implement projects in a culturally acceptable and relevant way, and would be interested in working alongside us in our communities then please do get in touch!